In this blog post, I'm going to simplify things for you and focus on how to start a WordPress blog quickly and easily with Bluehost, the most popular hosting provider that's recommended by WordPress.

You'll also see a Tutorial Video (see below) that shows you how to start your blog, step by step, and in less than 10 minutes.
Everyone's Biggest Concerns Before They Start a Blog
From talking to my readers, there's two main concerns that people struggle with before getting started.
Will it cost a lot? No.
Will I be able to handle the technical stuff? Yes.
The Easiest and Most Affordable Solution
Disclosure: The Bluehost links on this page are affiliate links. This means if you purchase a product through an affiliate link, I will receive a commission at no additional cost to you.
To keep costs down, I suggest hosting your new blog with Bluehost.
They're the most affordable and are recommended by WordPress.
WordPress is the easy to use content management system for managing your blog, that most bloggers use.
Bluehost comes with WordPress and has a very easy process for installing it on your site.
So, to be clear:
Hosting = Bluehost.
Content Management System = WordPress.
Bottom line, let's keep costs down with the most affordable hosting and keep the technical stuff easy by using Bluehost together with the WordPress content management system.
Also, Bluehost gives you your domain name FREE for the first year. You'll see that in the video and also in step 1 below.
Struggles solved!
How to Start a Blog with Bluehost and WordPress
Starting a blog has become so easy and affordable over the last few years.
It's also changed the lives of many people, mine included.
Once you've started your blog, you can then go on to make an income from it through ads on your blog, affiliate marketing and many other ways.
I even have a blog post that's made me over $5K in revenue. And that's just one blog post!
Sound interesting? It all starts with what you are about to learn...
Video Tutorial
If you're more of a visual learner, below you'll find a tutorial video that teaches you how to get started.
Below the video is a step by step explanation of what I cover in the video.
Step By Step
What follows is a step by step action plan for you to follow to learn how to start a blog.
If you follow each step, by the end you'll have your new blog up and running and your first post published.
I'll be including screenshots and plenty of detail to make things easy.
Here we go...
Step 1 - Register Your Domain Name (FREE) with Bluehost.
To get started, click here to go to the Bluehost home page to get your FREE domain name.
You'll be taken to a page that should look similar to the one below. But don't be surprised if the picture looks a little different, with a different person.
On that page, click on the green Get Started button, which will take you to the Select Your Plan screen.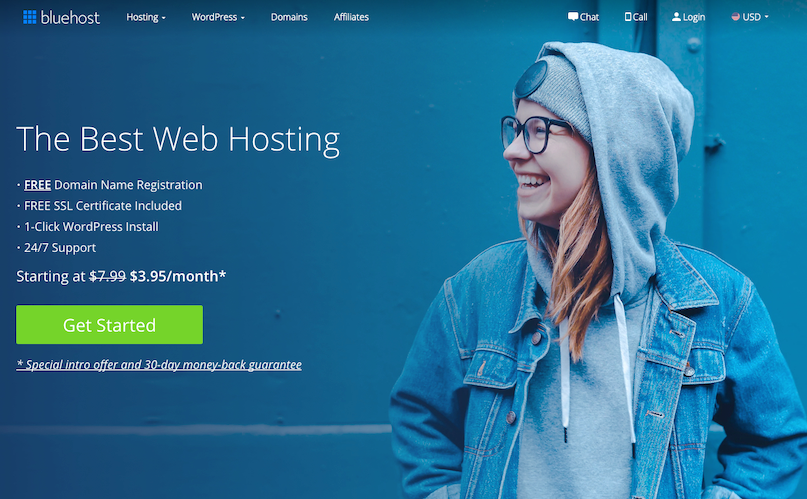 Next, select the basic plan. I've denoted it with a red arrow.
Remember, we're keeping costs down. Fortunately, the basic plan is perfect for getting started!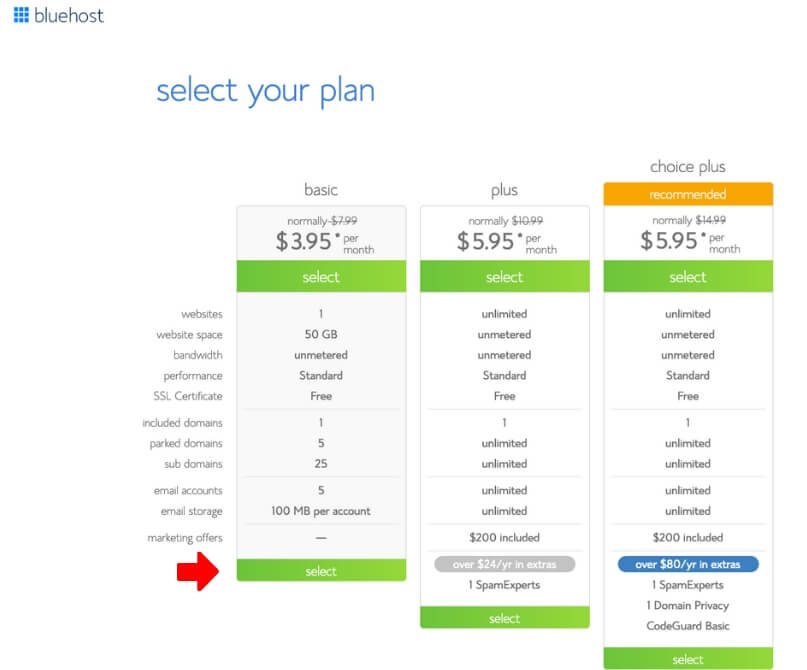 After you select your plan, you'll be taken to the next screen where you signup for your domain.
I've denoted that with a red arrow below.
There you'll type in your new domain and click on next.
And, don't worry if your domain name is taken. They'll let you choose a different one or even choose it later, if you want...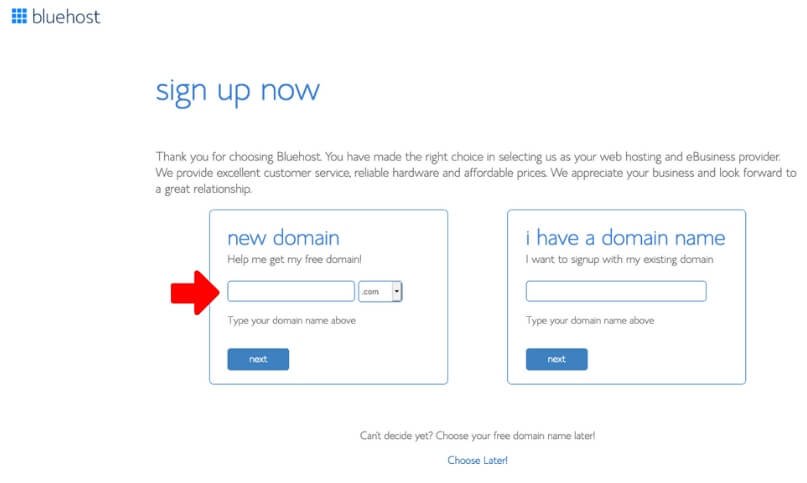 Once you've picked your domain name, you'll be taken to the account information area.
There you'll type in your account information.
Here's that screen: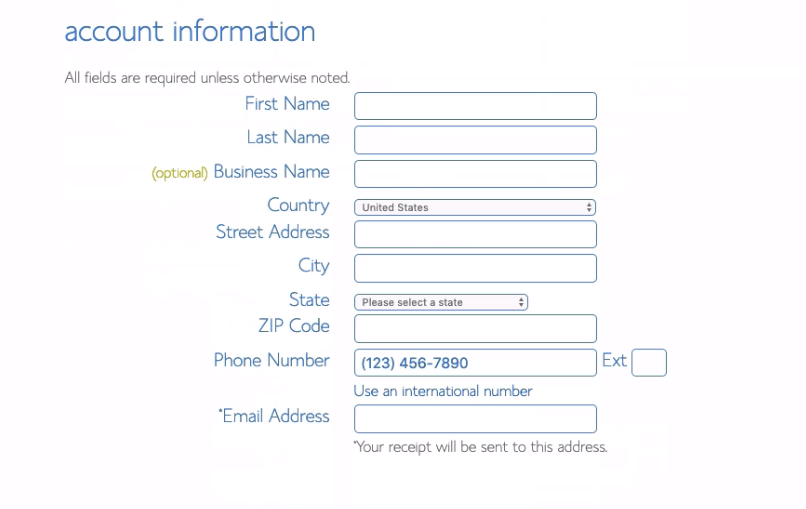 Just below the account information section, you'll see the package information area where you choose your plan.
Here you'll decide which plan is best for you.
The longer the term you choose, the more of a discount you'll get.
When I signed up, I just went with the 12 month plan even though the per month price was a bit higher. You'll see that in the video above.
But, it's totally up to you.
Important: To get these highly discounted rates, you have to purchase the full plan. It's not pay per month, you pay in advance for the term you select.

Once you've chosen your plan, you'll have the option to select some package extras.
I'm going to make this easy for you and suggest you only select the Domain Privacy Protection option. The others, you really don't need.
Pro Tip: The reason why domain privacy is important is because domain registrations are made available for the public to see. What ends up happening is you'll get a bunch of sales emails and phone calls from vendors unrelated to Bluehost that want to sell you stuff.
By keeping your domain information private, the vendors won't be able to see your personal details if they look up your domain. Definitely worth the 99c per month.
Here's what that looks like, along with the price of the basic 12-month package and domain privacy: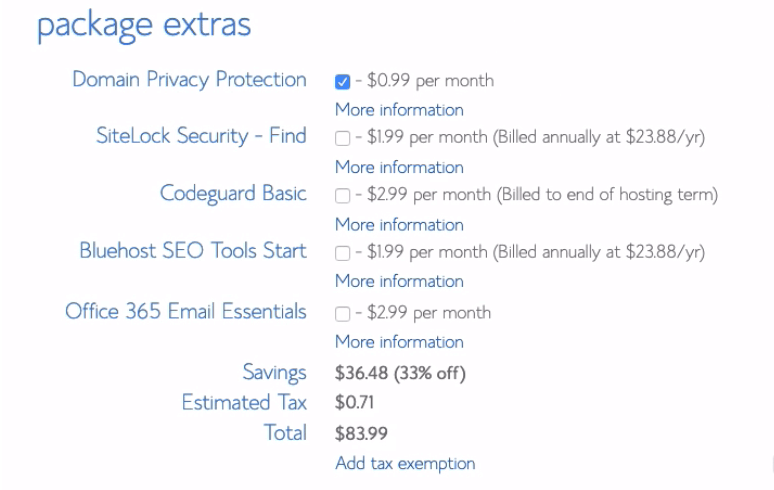 Next up, you'll see the payment information section.
Here you'll provide your credit card information and then agree to the terms and click on the green submit button.
Here's what that looks like: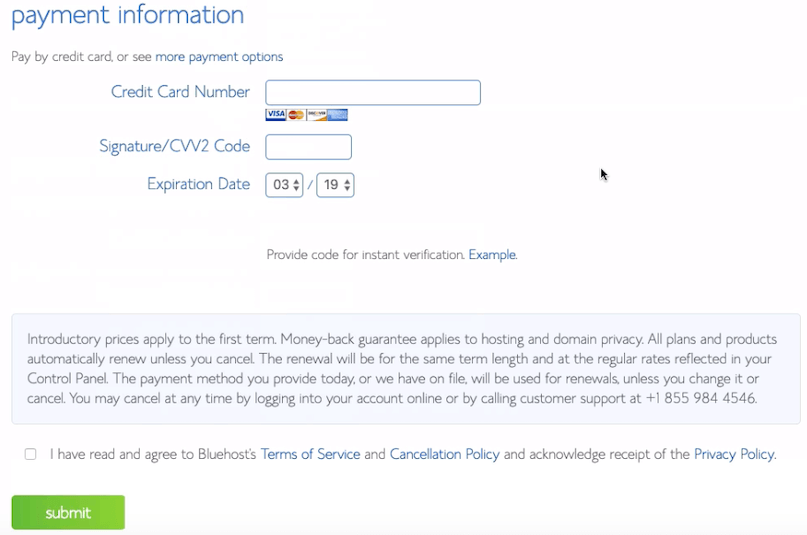 After clicking on the green submit button, you'll see the Welcome to Bluehost screen (see below).
This lets you know that your purchase went through and your account has been created. (You'll also see your order receipt)
Your next step will be to create your new password for your Bluehost account.
To do that, you'll click on the green Set password button.
Here's what that looks like: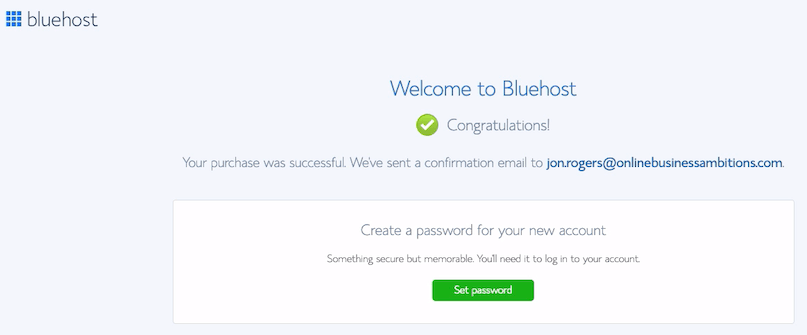 After clicking on the green Set password button, you'll set your password as shown below: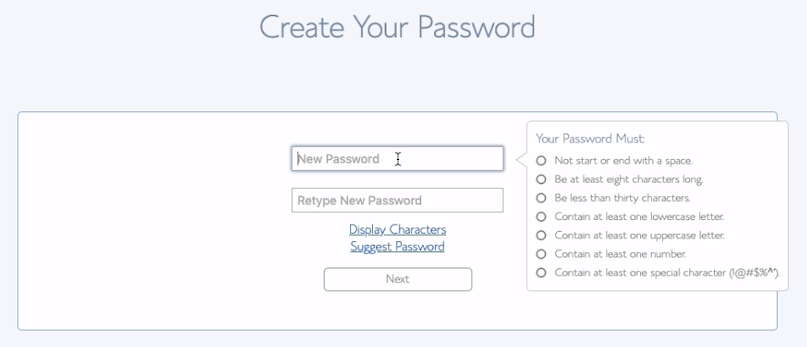 After entering your password, a Privacy and Terms checkbox will appear. You'll need to check that box.
Then after clicking on Next, you'll see a Congratulations screen, letting you know your password was created successfully.
From there, you'll click on log in to go to the next step.

Step 2 - Get WordPress Up and Running.
After clicking on the log in button above, you'll be given a choice to pick a free, externally designed, WordPress theme or skip that step.
Now, WordPress automatically comes with their own existing theme. It's usually named after the current year.
So, in my tutorial video, I chose to skip this step (scroll down to the bottom to choose that) and go right to the WordPress dashboard.
This will automatically load WordPress's existing theme.
Here's what that looks like: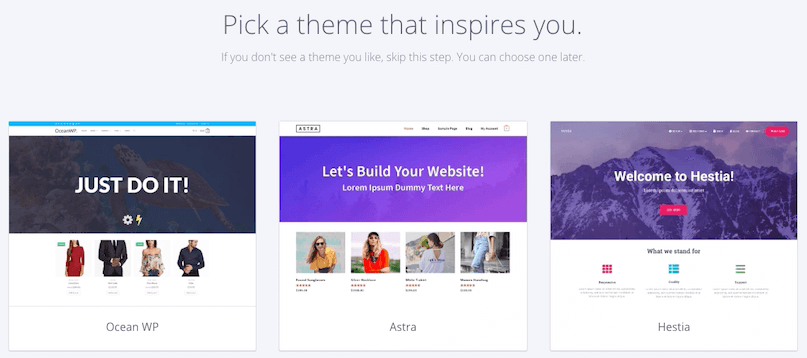 After clicking on Skip this step above, you'll be taken to the All done! screen, below.
Bluehost will also let you know that your site is being provisioned onto a temporary domain. They do this so that you can immediately start working on your new website.
Pro Tip: It normally takes a day or so for websites to propagate onto the Internet. So, instead of making you wait, Bluehost gives you a temporary spot to start working.
Within a day, Bluehost will automatically switch you over to your permanent domain (the one you got for FREE). It's seamless and you don't have to do anything. You may not even notice it, actually!
Anyway, from here you'll click on Start Building (see below) to go to the Bluehost portal.

When I clicked on Start Building, I accidentally opened a 404 not found screen. I'm not sure if I caused that or not, but if it happens to you, just click on the Bluehost Portal tab on your browser to get to the right place. You can then close that 404 page if that happens to you. No big deal.
So, that leads us to the Bluehost Portal page, which is shown below. There's more on that page, but what you'll want to focus on, is what I have shown below.
You'll see the welcome message, your new domain name and a picture of the default WordPress theme (the one that says "Digital strategy...")
Your next step is to click on the blue button that says Log in to WordPress. That will install WordPress on your site (it takes a minute to install) and then bring you to Bluehost's Welcome to WordPress screen.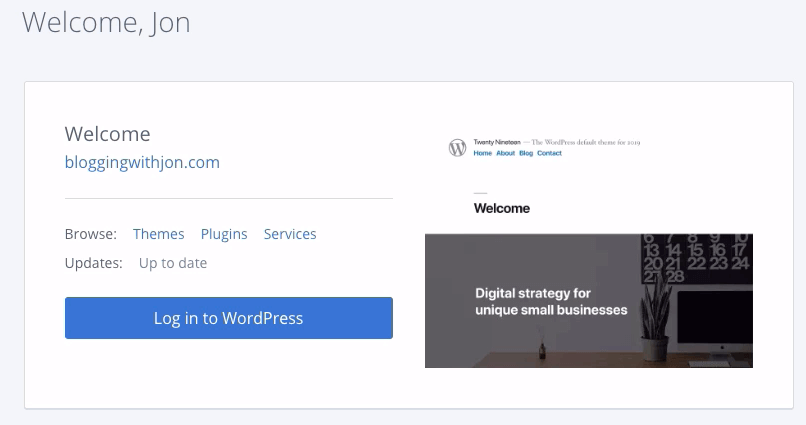 You'll now be at the Welcome to WordPress screen, within the WordPress dashboard (see below):
I wanted to get right into using the WordPress dashboard, so I clicked on I don't need help.
I denoted that with the red arrow in the screen below.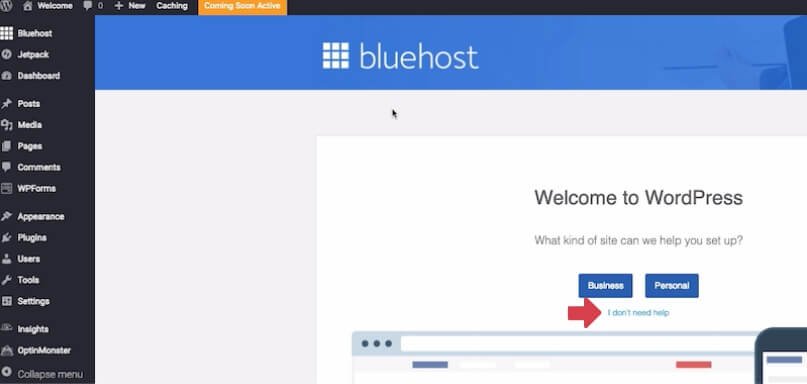 After clicking on I don't need help, you'll be taken to Bluehost's section of the WordPress dashboard (see below).
Step 3 - Create and Publish Your First Blog Post!
My main goal was to add my first blog post using the WordPress dashboard.
So, I went ahead and clicked on Posts -> Add New as shown below: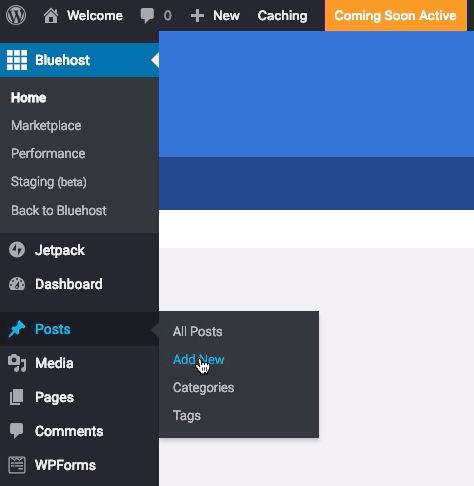 This brought me to WordPress's block editor, where I typed up my first post (see below).
In the editor below, I entered in my blog post's title of "My First Post" and entered my blog's text of "Hello world. This is my first post on bloggingwithjon!"

After doing that I clicked on Publish, confirmed my settings and then re-clicked on Publish to actually publish my very first blog post on my new site!
Step 4 - View Your First Blog Post on Your New Website.
After publishing, WordPress gave me the option to view my post, which I did.
Here's what that looked like:
What you're looking at above is the actual blog post as it appears on my site.
Of course, it's very minimal. However, it's just the beginning.
From here I could add more to the post, including more text, pictures, graphics, tweet boxes, videos and more.
Kind of like the post you're reading right now!
Step 5 - Now It's Your Turn.
So this brings us to the end of the steps to show you how to start a blog and publish your first blog post.
If you've been following the steps, by now your new blog will be up as will be your first post.
Going forward, you'll want to add more content, including your About page, your Contact page, a Blog page and anything else that's right for your website.
And of course, publish plenty of blog posts that show off your skills and knowledge about your niche. These blog posts will demonstrate your authority in your niche.
You'll use your WordPress dashboard to manage all of this and your blog will be safely hosted on Bluehost.
Conclusion
I hope you enjoyed this post!
I know it's a bit lengthy, but I wanted to make sure you saw all the steps you will go through if you decide to start a WordPress blog with Bluehost.
It's entirely possible the process will change over time, but the instructions above should be able to guide you along even if things change.
If you have questions, leave a comment below and I'll do my best to answer what I can.