ConvertKit Review: Pricing, Pros, Cons and Features (2023)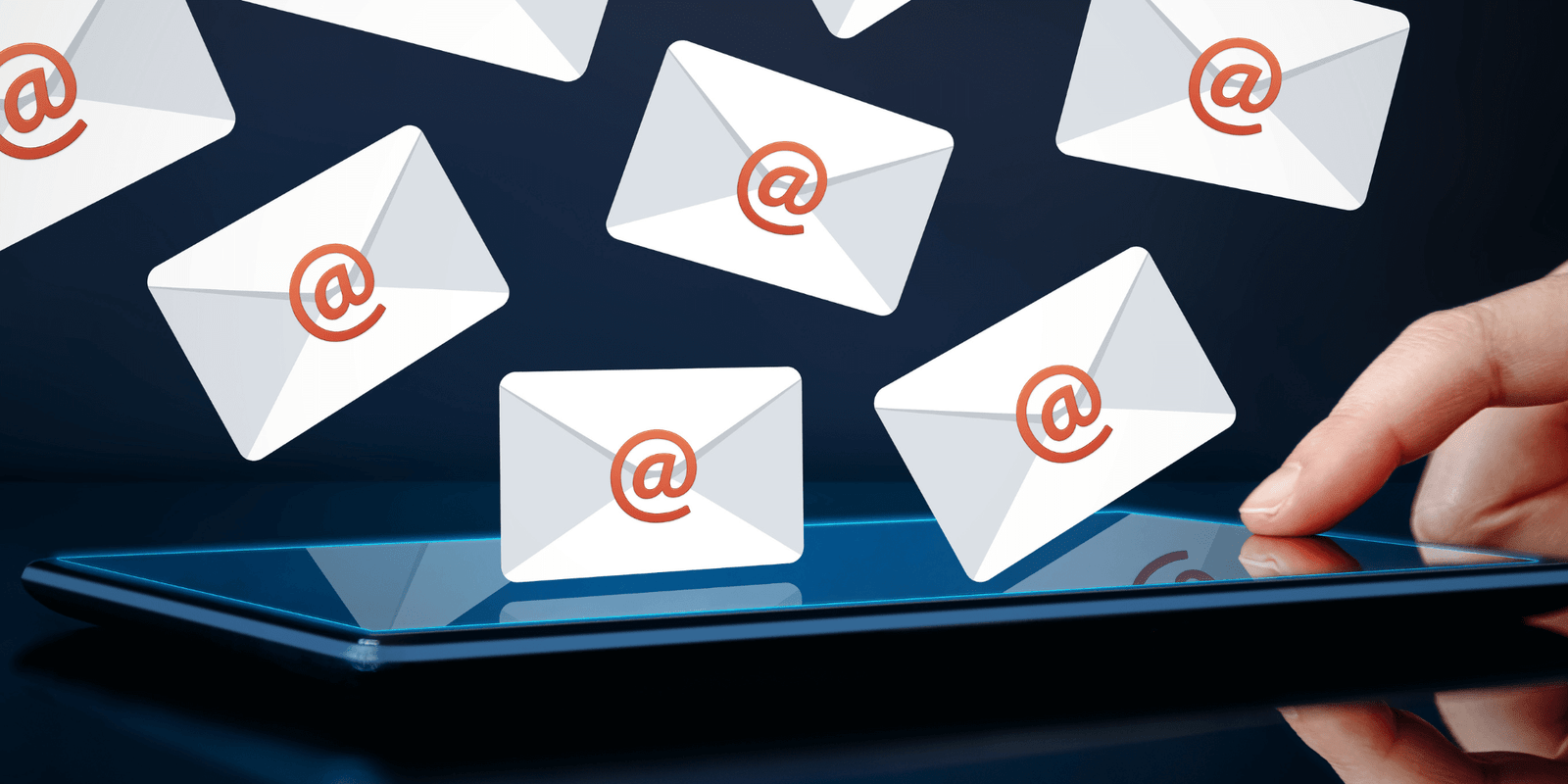 In this ConvertKit review article, you'll be getting a detailed review of ConvertKit's email marketing platform, their advanced marketing automation tools, their pricing and more.
As a paying customer and user of ConvertKit, I'm pleased with the majority of email marketing features and benefits they offer.
There are, however, a couple improvements I'd like to see them make and I'll be sure to cover those as well, in this review.
Some links on this page are affiliate links, which means if you purchase a paid plan I may receive compensation at no cost to you.
The Importance of Email Marketing Software
Email marketing tools are important for the success of online creators. Whether it's building a list of email subscribers or sending out email broadcasts about your latest offerings, email marketing is essential for building an online business.
Think of email marketing as your method for communicating to your email subscribers in a one-to-many fashion.
And when you do that, you want to use the right email marketing tool for the job.
While there are other email marketing platforms out there, I've found ConvertKit to provide great email marketing automation at a great value oriented price. They also offer a free trial for their paid plans, so you can give them a try before committing.
There are many email marketing software solutions to choose from. I know from experience it can be overwhelming to make the right choice.
My hope is that by reading my ConvertKit review, you'll be better equipped to decide if ConvertKit's email marketing software is right for you.
ConvertKit Overview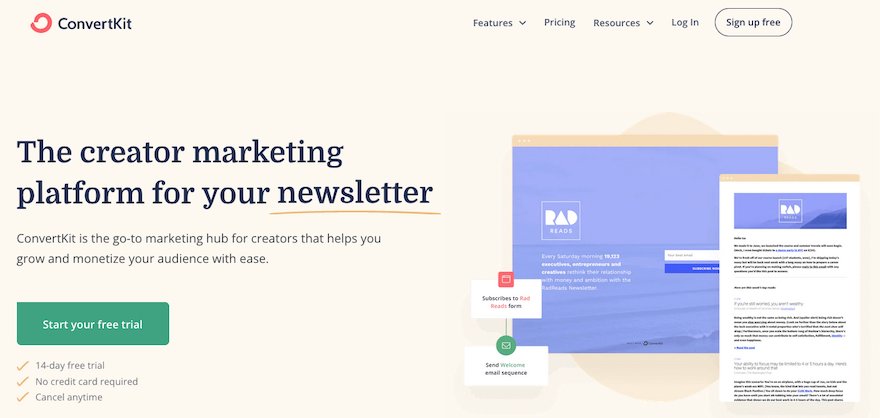 ConvertKit is an email marketing platform that helps you to grow your audience, perform many marketing automation tasks and sell digital products.
ConvertKit has several standard and advanced features, including:
Email Marketing
Landing Pages
Commerce
An email designer
Email sign up forms
Email automation
Integrations and Creator Pro for advanced email marketers
Who is ConvertKit For?
ConvertKit, from the start, has been designed for beginner and professional bloggers and online creators.
They're also a good fit for course creators and those with small businesses.
They were founded in 2013 by Nathan Barry. Since then, they've garnered much praise from users like Pat Flynn and many other well-known online business owners.
Deliverability
If deliverability is important to you (i.e., you don't want your emails going into your email subscribers spam folder), then ConvertKit is probably a good choice for you.
In order to keep deliverability rates high, ConvertKit uses multiple sending domains. This is great if you're just starting out because you'll start off on a sending domain that already has a known reputation for sending non-spammy emails.
In the event that spammy emails get introduced on a sending domain (not by you of course!) ConvertKit has controls in place that will redistribute their customers across different sending domains. Thereby protecting you from someone else's problem.
And of course, getting your emails into your email subscribers inboxes!
Subscriber Charges
When managing subscribers, it's important to understand that some other email marketing solutions charge you more than once for the same email subscriber.
The way that happens is that if you want to segment your list into different parts for specific subscribers, you have to do it by creating multiple lists.
So, let's say I wanted to have three lists and a subscriber was on each list, that meant one subscriber on three lists got counted as three subscribers.
Which meant I had to pay for three subscribers, even though there was really only one.
Now let's say there's 1000 subscribers falling into that situation. Suddenly 1000 subscribers becomes 3000 subscribers, which means you're paying for an additional 2000 subscribers for no good reason. How dumb is that!
ConvertKit doesn't do that, fortunately.
ConvertKit uses tags for segmenting and you only pay per subscriber. 1 = 1. 1000 = 1000.
Simple and cost effective!
ConvertKit Advanced Marketing Automation Tools
A picture is worth a thousand words and ConvertKit's visual automations give you the picture of your subscriber's journey inside your email funnel.
Think of it as a visual flowchart that shows you the series of steps your subscriber proceeds through, after entering your Automation.
Example:
For example, let's say you have a landing page on your website that has the purpose of getting someone to opt-in to a free Guide to Selling Digital Products.
And let's say you also have an opt-in form somewhere else on your site for that same free guide.
Now let's also say, once someone opts-in to the free guide you want to put them into an email sequence that teaches your subscribers all about marketing.
With ConvertKit, you can automate all of that visually.
Here's an image from inside ConvertKit's help documentation that shows exactly what that would look like: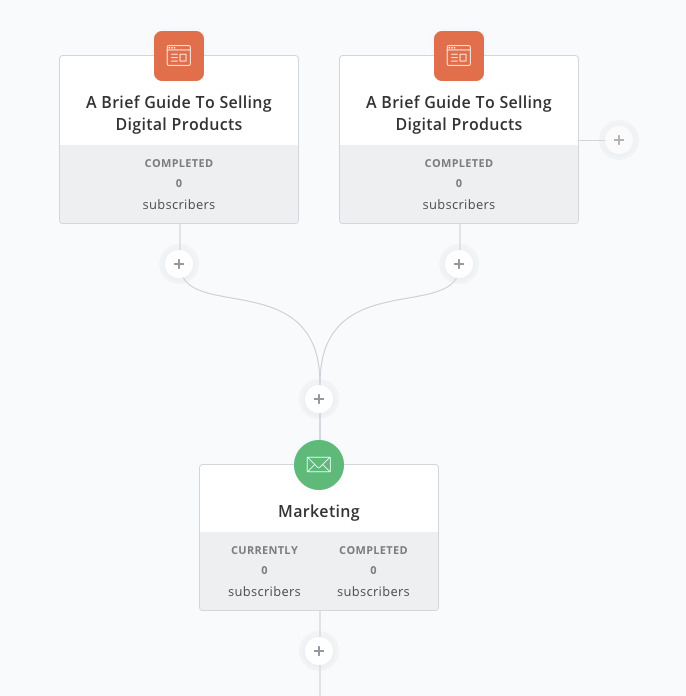 The landing page is shown on the left and the opt-in form elsewhere on the website is on the right.
In this case they both have the same name, but you can name them differently.
And then you can see how they both visually connect to an email sequence.
The power to this is that you don't have to create two different flows. You create one, with both opt-in sources feeding into the same sequence.
And, of course, it's visual. Not some weird looking boxy-boxes stacked on top of each other, leaving you to guess what's going on!
Finally, the picture above is just one simple visual automation.
You can get as complicated as you want with this. Including adding and removing multiple tags, taking action on different triggers, moving people from one automation to another and much, much more.
Or you can just keep it simple. That works too!
ConvertKit Email Marketing Platform
Speaking of simplicity, as a blogger and online business owner, you really need to be focusing your time on creating content and marketing your products and services.
ConvertKit knows this and does a great job of keeping their email marketing platform SIMPLE.
It starts with the visual automations above, making it easy to see and understand the email funnels you're building.
But beyond that, the ConvertKit dashboard menu keeps everything based around five simple things:
You'll find these at the top of your ConvertKit dashboard screen inside the software and they are at the heart of everything you do.
I like to think of them as my "building blocks" for email automation.
Once you learn the basic knowledge of these building blocks (and it doesn't take long) you have everything you need to become an email marketing Ninja!
ConvertKit Landing Pages
In previous versions of this ConvertKit review, I listed their landing pages as needing improvement.
But, boy did they make some great improvements over the last couple years!
They started off with 4 very basic landing page templates but have since grown that number to 53.
And they've grown the different types of landing pages as well. Now they're up to 10 different landing page categories.
You can see this below, which is displayed inside your ConvertKit account.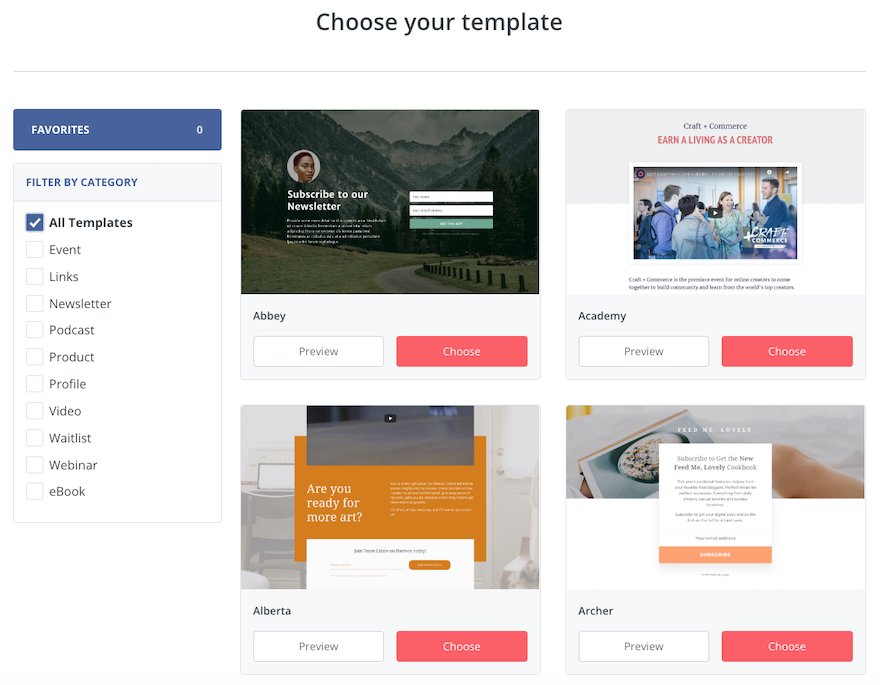 You can also get a feel for what their templates look like from the image above. Keep in mind, this is only four of them. With a total of 53 different templates, you're bound to find something that works for you.
Now I will say, if they really want to go the extra mile, why not create a simple landing page builder that we could use to create landing pages ourselves? Hopefully that will come in time.
ConvertKit Analytics
Another benefit of using ConvertKit is they give you simple graphs at the top of your main pages, showing you your list building progress.
Examples:
Here's an example of the bar graph at the top of your Subscribers page. It shows you your net new subscribers over time. You can also see your unsubscribes as grey bars below the line:
You can also change this to show a line graph of your total subscribers over time:
Next is an example of the graph at the top of your Forms page, showing you overall form signups over time:

I love all these graphs and advanced analytics. It's motivating to see when you're doing well. And helpful to remind you that building your list should be a top priority.
ConvertKit Resend to Unopens
While there's certainly even more to love about ConvertKit than just what we've covered so far, let me close with one that has DEFINITELY increased my open rates.
And that is the ability to resend email broadcasts to subscribers who didn't open your email.
When you send out a broadcast, you have to expect that a good number of your subscribers won't open it.
They could be busy, the email subject didn't resonate with them, or who knows what else.
With ConvertKit broadcasts, you can resend to unopens.
What I usually do, is change up the subject line a bit before I resend the broadcast. I figure a new subject line might resonate better than the first one.
Here's what that looks like inside ConvertKit… The image below is the summary report you get for all your broadcasts and it's showing the subject lines you put in your email.
The subject for the first email was "Your Email List vs Social Media."
The subject for the re-sent email was "ICYMI: Your Email List vs Social Media."

The first line above is the cumulative report of the broadcast.
Below that is the report of the first sending of the email.
Then below that is the report of the resend. You'll see that I added "ICYMI:" to the beginning of the subject line. That stands for "In Case You Missed It" and catches people's attention.
I sent the resend 7 days later, but you don't have to wait that long.
Now, note the additional 16.4% Open Rate and 1.5% Click Rate on the resend.
That wouldn't have happened if I only sent one email.
I also got an unsubscribe, but I'd rather someone leave my list if I'm not a good fit for them.
Overall, a great feature of ConvertKit.
What ConvertKit Could Do Better
I promised I'd mention a couple improvements I'd like to see as part of my ConvertKit review.
Here they are…
Include Deliverability Reporting with the Creator Plan
Not too long ago, ConvertKit changed up their plans. It used to be that all features were included in all plans, with the price differentiator being the number of subscribers you have.
Now they have three plans. The free plan, the Creator plan and the Creator Pro plan.
Each plan has its own level of features, with the Creator Pro plan having the most.
One of the features in the Pro plan is Deliverability Reporting and I think that kind of reporting should be included in the base level Creator Plan.
For example, Deliverability Reporting gives you visibility into email deliverability by email service provider (Gmail, Yahoo, etc.). I think it would be a benefit to both ConvertKit and its customers to allow that level of visibility for all plans. That way, if a problem trend develops with a particular email service provider, you can take steps to address it.
There are other features the Pro plan offers including Facebook custom audiences and inviting collaborators on your account, but I can understand how those more advanced features may justify a higher price.
Better Customer Data
There's a lot of "behind the scenes" subscriber data that can be captured when new subscribers your email list.
For example, with some other email service providers you can easily export a subscriber's country, region, city and IP address.
When you export subscriber data out of ConvertKit, you don't get those fields in your download.
They do show you a subscriber's region and city, but only when you're looking at that individual subscriber in your Subscriber Dashboard. Not as part of a download.
And they completely hide the IP address from you.
I suppose you could argue that's good from a privacy perspective. However, it limits you from spotting bad actors on your list.
Are These Showstoppers?
With that said, I can live with these limitations.
So, no they're not showstoppers.
I am a paying customer after all, and wouldn't have gone with them if I felt these were showstoppers for me.
ConvertKit Pricing
Here is what ConvertKit charges by plan for a yearly subscription: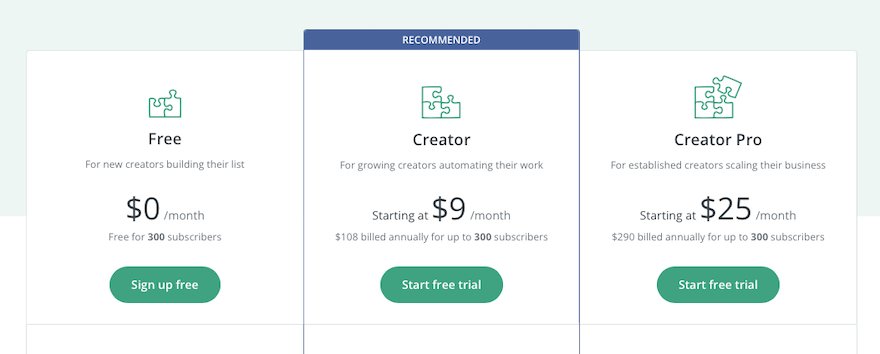 ConvertKit recently introduced a free plan that lets you send unlimited emails to your subscribers.
Not to be confused with a free trial of their paid plans, the free plan allows you to start building your list for free.
And while you don't get all the features of the paid plans, you do get quite a bit of advanced features with the free plan.
Here are some of the features you get with the free plan:
Landing Pages – You can build as many as you want and they have over thirty premium templates.
Customizable Signup Forms – As many as you want to build.
Up to 1000 subscribers.
Broadcast Emails – You can send unlimited emails.
The ability to tag subscribers, which is great for segmenting your list.
Integration with Unsplash for free image usage in your landing pages and forms.
Their online community.
What you don't get with the free plan is any real email marketing automation and the ability to create email sequences.
But, for many people getting started, the first step is to build your list through forms and landing pages and to send out weekly emails.
The free plan allows you to do just that!
ConvertKit Paid Plans
To get more advanced features beyond just the basics (e.g., automated email sequences, visual automation, free migration and more), you'll need to go with either the Creator or Creator Pro plan.
With a 14-day trial (no credit card required) you can test drive all of ConvertKit's features without commitment.
Once the free trial is over, there are three plans to choose from:
Free: $0 per month.
Creator: $15 per month / $108 per year.
Creator Pro: $29 per month / $290 per year.
The prices above are based on an email list of 300 subscribers.
The price you pay increases depending on how many subscribers you have.
Also, note that you get a discount if you pay for a full year versus paying monthly.
For example, for someone with up to 300 subscribers choosing the Creator plan, you'd be charged $108 if you pay for a full year. Paying monthly would cost $180 after you've paid $15mo. after 12 months. So, something to consider.
As a paying customer myself, I think ConvertKit provides a great value for the features it offers.
ConvertKit Review – FAQ
What is a good open rate for ConvertKit?
I have personally experienced an average open rate of 65.22% using ConvertKit. However, open rates are determined by many different variables and yours may vary.
What is ConvertKit good for?
ConvertKit is a good choice for marketing your business and growing your email list. They offer free and paid plans to suit most businesses.
Is ConvertKit an auto responder?
ConvertKit provides autoresponder features that you can use to automate sending emails to your subscribers. You choose one of their paid plans to get this feature.
How many emails can you send with ConvertKit?
All of ConvertKit's plans offer unlimited emails.
Who uses ConvertKit?
ConvertKit is used by businesses who want to do email marketing. ConvertKit especially targets creators who incorporate email marketing into their businesses.
ConvertKit Pros:
High deliverability rate.
Only charged once per subscriber.
Visual automation.

Easy to build, good looking forms that you can embed in your website.

Graphical views of your list building progress.
The ability to resend your broadcasts to subscribers that didn't open them the first time.
Fifty-three landing page templates across ten different categories.
ConvertKit Cons:
Detailed deliverability reporting not included in base paid plan.
Lack of customer data captured for new subscribers.
ConvertKit Review Summary
Whether you are brand new to Email Marketing or need more advanced automation tools, ConvertKit can be a great tool for your business.
Your business's email list is an important asset that helps you get the word out about your latest articles and your latest offerings.
While no email marketing provider is perfect, I use ConvertKit and I think you'll find it gives you all the important tools your business needs for building your list and earning a living with your online business.
Have you tried ConvertKit?
Share your thoughts in the comments below.