SiteGround Review 2023 (From a Paying Customer)
In this SiteGround review I will cover this web hosting company's key features, prices, pros and cons plus much more to help you decide if SiteGround web hosting is right for you.
I'll also show you a real-life SiteGround vs Bluehost speed test I did so that you can see how these two web hosting companies compare.
I'm a paying customer of SiteGround and all of my main sites are on their WordPress hosting service.
SiteGround is a hosting company that's known for their improved performance over many of the other lower-cost shared hosting companies.
What I believe sets SiteGround apart is their focus on speed and security and the fact that they run on the Google Cloud platform.
Additionally, they offer a free CDN and some plans offer their custom caching plugin that dramatically speeds up the performance of your WordPress website.
From SiteGround:
"We are hosting 2,000,000 domains while making website owners less stressed, more productive, and hopefully just a little happier."

Siteground
SiteGround has data centers in the United States, Australia, Singapore and two in Europe. This means you can have your site hosted in the data center that's closest to your customers.
Closer locations means faster speeds for your users and fast speed is a good signal to Google for SEO purposes.
Note: The links to SiteGround in this review are affiliate links. That means if you click through and purchase hosting with them, I'll get a small commission at no additional cost to you. I'm proud to say I only affiliate with companies that I believe provide excellent value for my readers.
SiteGround Pricing and Plans
Below you'll find what is included in each of SiteGround's WordPress Hosting plans.
As a SiteGround affiliate, I'm able to pass along an 80% discount off web hosting for your first purchase. Currently, you can choose terms of 1-3 years to get the discount.
Once your renewal comes due, their standard pricing applies.
I've found it best to purchase the longest term you can, in order to lock in the special price for the longest amount of time.
Pricing Chart:
SiteGround offers three plans: Startup, GrowBig and GoGeek. Each plan provides different features and limits as show below.
Startup
1 Website
10GB Webspace
~10,000 Monthly Visits
Unmetered Traffic
Free WP Installation
Free WP Migrator
WP Autoupdates
Free SSL
Daily Backup
Free CDN
Free Email
WP-CLI and SSH
Unlimited Databases
30-Days Money-Back
$14.99/month.
$2.99/month.
GrowBig
Unlimited Websites
20GB Webspace
~25,000 Monthly Visits
Unmetered Traffic
Free WP Installation
Free WP Migrator
WP Autoupdates
Free SSL
Daily Backup
Free CDN
Free Email
WP-CLI and SSH
Unlimited Databases
30-Days Money-Back
On-Demand Backup Copies
Speed-Boosting Caching
$14.99/month.
$4.99/month.
GoGeek
Unlimited Websites
40GB Webspace
~100,000 Monthly Visits
Unmetered Traffic
Free WP Installation
Free WP Migrator
WP Autoupdates
Free SSL
Daily Backup
Free CDN
Free Email
WP-CLI and SSH
Unlimited Databases
30-Days Money-Back
On-Demand Backup Copies
Speed-Boosting Caching
Ultrafast PHP Setup
And More…
$39.99/month.
$7.99/month.
Save 80% On All Plans Today!
Inodes and Other Server Resource Quotas
Time to geek out for a second! Stay with me, this stuff is important.
Like most shared hosting plans, SiteGround's plans come with various resource usage quotas, depending on the plan you choose.
One thing that I really like about them is that they're upfront and descriptive about the amount of server resources they assign to your account (for your websites to use).
With other shared hosting plans, it's difficult to find out what their resource limitations are.
These are things like the amount of CPU, memory and storage you're allowed, plus database and email resources.
Recently, SiteGround significantly increased their Inode quotas.
Inodes are the files and folders that your website uses, as part of your account.
As they describe it, "This means you can now store more files on your account, receive more emails, and grow your website further within the same plan at the same price."
Updated Inode Quota List By Plan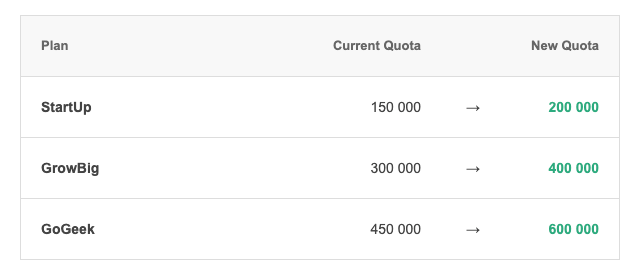 The Full Quota List
For details of all the resource quotas, SiteGround has a Shared Hosting Features page that tells you everything you need to know!
More About the Ultrafast PHP Setup
For those who want the best, the GoGeek plan makes use of SiteGround's Ultrafast PHP setup.
This gives you:
Faster page response with up to a 50% reduction in time to first byte (TTFB).
Increased server capacity by allowing the host node to process about 20% to 30% more requests for better handling of traffic spikes.
Up to a 15% drop in server memory usage which opens up server resources for handling more traffic faster.
An overall 30% performance increase over the standard PHP setup.
SG Optimizer
As features of the GrowBig and GoGeek plans, SiteGround has a plugin called SG Optimizer.
SG Optimizer is Siteground's speed-boosting caching solution that improves your site speed by storing pages in server cache so that they don't have to be refreshed from memory with each request.
But it goes beyond that. It also includes:
Automatic database cleanup and optimization.
Minification of CSS, HTML and JavaScript.
Deferring of render blocking JavaScript.
Automatic optimization of images. (Un-optimized images are a common problem of slow sites)
Lazy loading.
A built-in Google Page Speed tester.
And more…
After getting to know this feature and seeing how powerful it is, I think it's become my favorite!
SiteGround's Customer Support
In my personal experience, I've found the customer support team to be very helpful and responsive.
For example, when I switched to SiteGround from another web host I encountered a problem after migrating my site to SiteGround. I used their WordPress Automatic Migrator tool to do this.
After migrating, I noticed that my site seemed to always redirect to the non-www version of my site. However, the www version was what my site needed to be.
So, I contacted SiteGround support through their chat support feature with my issue.
Chat Support Example
I was greeted by Daniela from SiteGround's support team and she worked with me to solve my problem.
Actually, she started out by explaining how to fix the problem. However, after noticing that we were both seeing some odd things, she took the initiative and just went ahead and fixed my problem for me.
She also ensured that my free SSL certificate was installed and working OK. Those SSL certificates are important. They make sure your site starts with https and is secure.
Definitely some top notch customer support!
Now I do suspect that since I opted for their GoGeek plan, I probably got priority support. But nevertheless, I was pleased with the customer support I received.
It's also worth pointing out that the SiteGround support system retains your chat support history so you can go back and look at previous tickets.
Directing Questions to Customer Support
Let me share another example with you.
Sometimes you don't need the support team to fix something, but you do have a technical question that you want answered.
As an example of this, at one point I was considering using Ezoic on one of my sites to generate more ad revenue income.
I ultimately decided not to, due to how that ad network would impact user experience.
But, while I was researching them, a question came up about needing to send your hosting service a list of IPs from Ezoic so they could be whitelisted.
This time I submitted a ticket and contacted SiteGround support with my question. They answered my question quickly and it turned out they were already aware of the IP list.
So, overall I can say I'm honestly quite pleased with SiteGround's Customer Support. The support team is very knowledgeable, quick to respond and easy to work with.
Site Tools and Control Panel

SiteGround gives you a number of site tools you can use to manage your website.
Some of the site tools include a site setup tool, a WordPress website migrator and a site scanner add-on to check for malware.
Once your site is setup and installed, SiteGround then gives you a site tool area in your dashboard.
They call this the Site Control Panel and it's their replacement for the old cPanel.
Here is what the control panel looks like (see picture below):
Overall, I found the site tools inside the control panel to be a good replacement for cPanel.
You get all the standard tools you need to manage your site in one place.
SiteGround Pros and Cons
Below you'll find what I think are the high-level pros and cons about SiteGround hosting.
Pros
Recommended by WordPress
Recommended by WooCommerce
Recommended by Yoast SEO
Optimized for Speed and Security
Runs on the Google Cloud Platform
Risk Free 30-Day Money Back Guarantee
24/7 Expert Support
Free Daily Backups
Free SSL Certificate
Cons
A Bit More Costly than Other Shared Hosting Plans
StartUp Plan Doesn't Include SG Optimizer Plugin
Professional Website Migrations Cost Extra
No free domain.
Who is SiteGround Good For?
SiteGround hosting is especially good for those who have a WordPress website (or blog) and are looking for better performance and security from their hosting provider.
Or, for someone who is planning on starting a WordPress site, and hasn't chosen a WordPress hosting provider yet.
They're also good for someone who is looking for a managed WordPress solution but also wants a decent value.
Best For:
Bloggers (New and Existing)
Online Business Owners
WooCommerce Shops
WordPress Website Owners
Those Who Want Top-Notch Speed and Security at a Good Price
Who is SiteGround NOT Good For?
If you're looking for the absolute lowest cost to host your website, then SiteGround probably isn't for you.
Also, if you have a ton of traffic (i.e. well over 100,000 sessions per month) then shared hosting might not be your best choice.
Domain Hosting
You can get started with SiteGround whether you have your own domain or not.
If you don't have your domain yet, you can purchase one through SiteGround when you signup for one of their web hosting plans. They charge $15.95 per year for domains.
If you already have a domain purchased elsewhere, then you can specify your domain name when you signup.
You'll be good to go from there.
Getting Started
In order to take some of the mystery out of what the signup process looks like, below you'll find the general signup process you'll follow, along with pictures of the screens you'll encounter.
I've broken it out into all the major steps.
Now, understand that web hosting providers change their signup process often.
So, while the steps you go through might look a little different, you should find these to be the general steps you'll be following.
Here's the steps…
Step 1 – Choose the Best Plan for You
You'll start off by choosing the plan that's the best fit for you.
Keep in mind, if you're planning on running multiple websites, you'll need to go with the GrowBig or GoGeek plan.
Those two plans allow for hosting of an unlimited number of websites.
If you're brand new and just getting started with your first website or blog, go with the StartUp plan. You can always upgrade later.
Here's what that screen looks like:
Step 2 – Choose Your Domain
Here you'll either specify a domain that you already own or purchase a new one through SiteGround.
You should be sure to have picked out a domain before you get to this step.
And made sure it's not already taken.
Pro Tips When Choosing a Domain Name:
.COM domains are still the most popular. Go with one of those if you can.
Avoid dashes and numbers in your domain.
Make sure your domain represents your brand.
Don't keyword stuff your domain to try to rank it for your niche. That doesn't work anymore.
Don't use words that are hard to spell.
Keep your domain name as short, simple and easy to remember as possible.
Here's what that screen looks like:
Step 3 – Review and Complete Your Order
Here you'll be shown your plan period, which you can change if you'd like.
And this is where you choose the data center location for your site. In the example below I chose USA.
You'll also see your web hosting price and what your bill will be for the period you've chosen.
SG Site Scanner
If you'd like, you can signup for SG Site Scanner, which is a monitoring service that scans your site daily.
SG Site Scanner will let you know if your site has been hacked or injected with malicious code.
It's powered by Sucuri, which is a well-known site security company that's been around for a long time. SiteGround has experience with client sites that have been cleaned by Sucuri from malicious code and given their client's success with Sucuri, it's not surprising they've parterned with them to power SG Site Scanner.
I think it's worth the extra $19.80 per year. You get emails to let you know when scans have occurred and their result. But, it's totally up to you and no big deal if you decide to pass on it.
Here's what that screen looks like: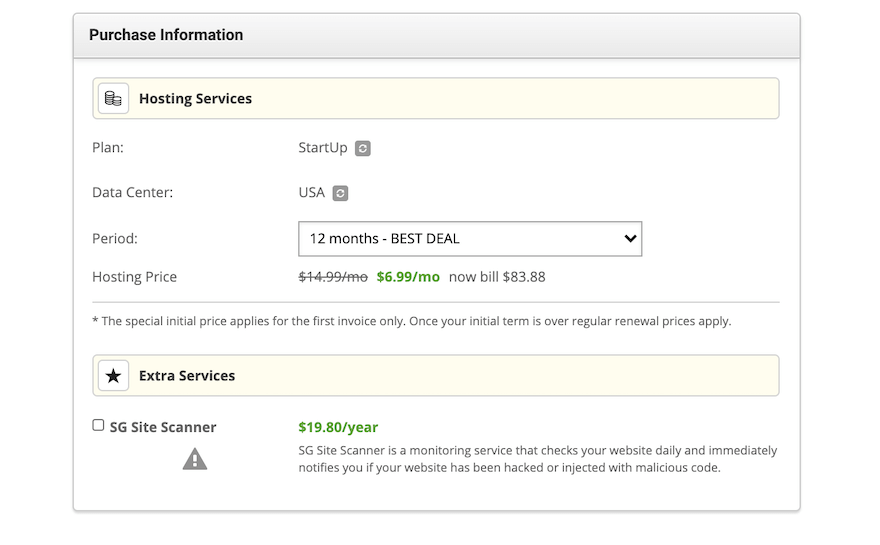 Step 4 – Setup Your Site
After you complete your order, your next step will be to setup your site.
There's essentially five steps involved to do that and below you'll see each step.
Add New Site:
First you'll let SiteGround know if you'll be starting a new site or migrating an existing one.
I'm going to follow the path of starting a new website in this example, however, I'm sure SiteGround makes it easy to migrate an existing site with their Migration Plugin.
Here's the screen where I chose to Start a New Website: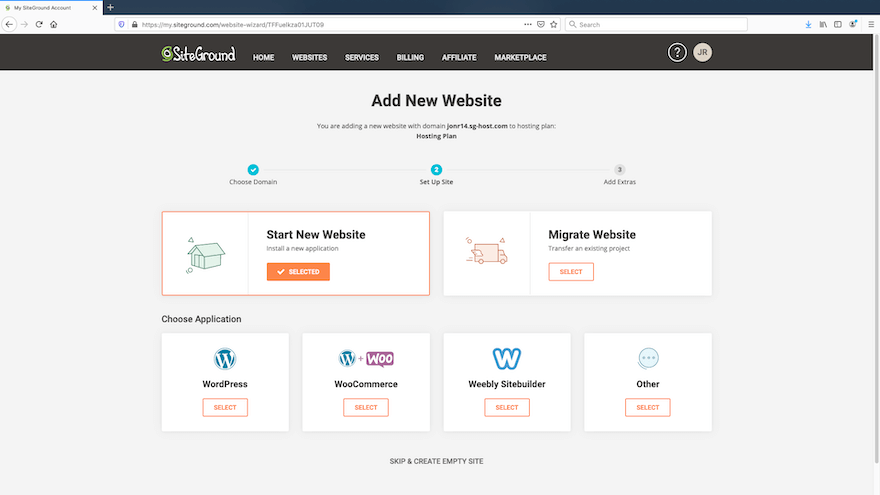 Choose Application:
The next step will be to choose the application you want to setup.
SiteGround shows you the two most popular options first (WordPress and WooCommerce).
You can also choose Weebly or others.
In this example we'll be choosing WordPress as our content management system.
Below is the screen where I chose WordPress for my new website.
This is the same screen as the one above, but just adding my application choice.
After you make your choices, you'll click on the CONTINUE button to move to the next step.
Add Extras:
Here you'll be given another chance to add SG Site Scanner (as mentioned above).
Then you'll click on the FINISH button to move on to the next step.
Here's what that screen looks like:
Creating Your Site:
After deciding if you want SG Site Scanner or not, you'll get the screen below that shows SiteGround creating your site. I chose not to add SG Scanner in this example.
The wheel will spin for a minute or two while your site is being created.
Here's what that screen looks like: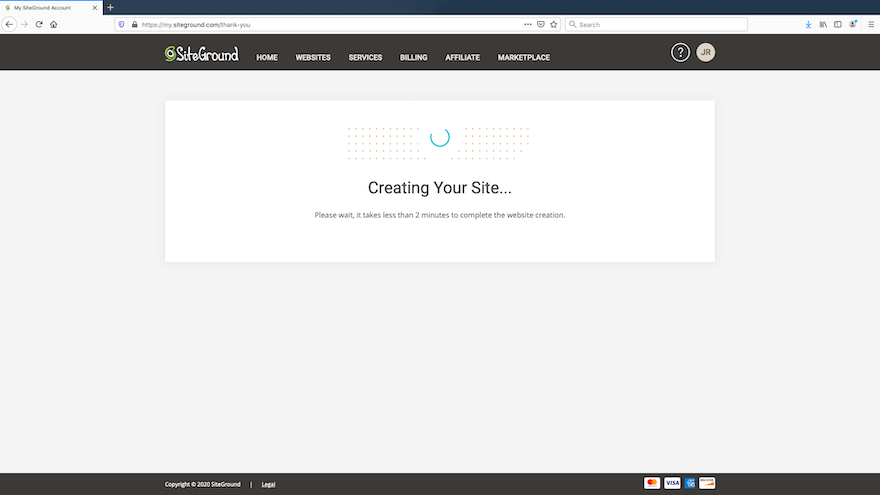 All Set:
Once your site has been created, the wheel will stop spinning and you'll be given an "All Set" screen.
At this point your site has been created and you're ready to proceed with managing your website.
Here's what that screen looks like: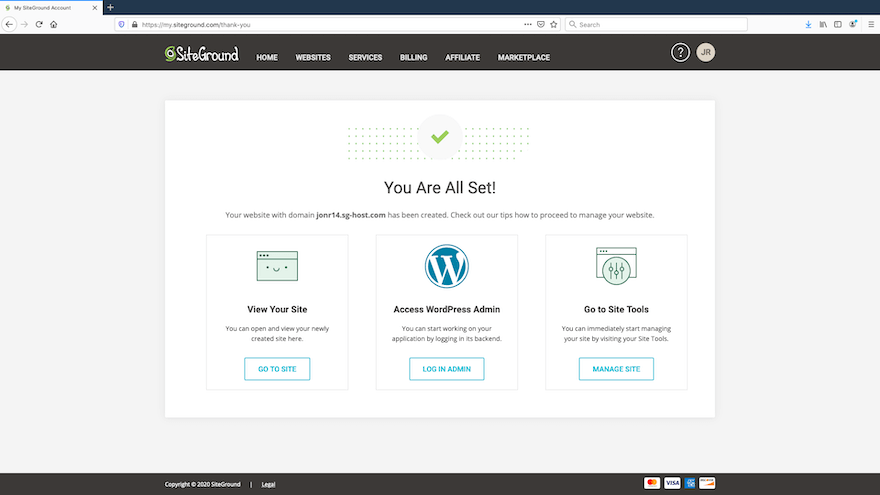 And that's it!
From there you can start managing your site.
Now, let's really put SiteGround to the test…
SiteGround Speed Test
One of the reasons why SiteGround is a bit more expensive than some other shared hosting providers is because of the speed gains they boast of.
But is it true that they're faster?
To put SiteGround to the test, I decided to run Google's PageSpeed Insights tool against the site I created above.
I also ran it against another site I have hosted by a different shared hosting provider (Bluehost).
I installed the same theme on both sites (StudioPress's Essence Pro theme).
I then created the same blog post on both sites and ran Google's PageSpeed Insights tool against both blog posts.
The reason I chose a blog post to test was because most people want their blog posts to load fast and attract search traffic. So, my goal was to be as "real world" as possible with the test.
I made sure both sites were as lean as possible in terms of plugins and both blog posts had the same text and one featured image.
Overall, as close to an "apples to apples" comparison as I could make it!
Some additional factors considered:
No CDN enabled on either site.
SSL certificates enabled on both sites.
Caching enabled for both sites. (SiteGround and Bluehost both have caching plugins to improve speed)
Results
The images below are screenshots of the results I got when running both the Bluehost and SiteGround blog posts through the Google PageSpeed Insights testing tool.
Below you'll see results for both mobile and desktop.
Let's start with Bluehost…
Bluehost Speed Test Results (Mobile):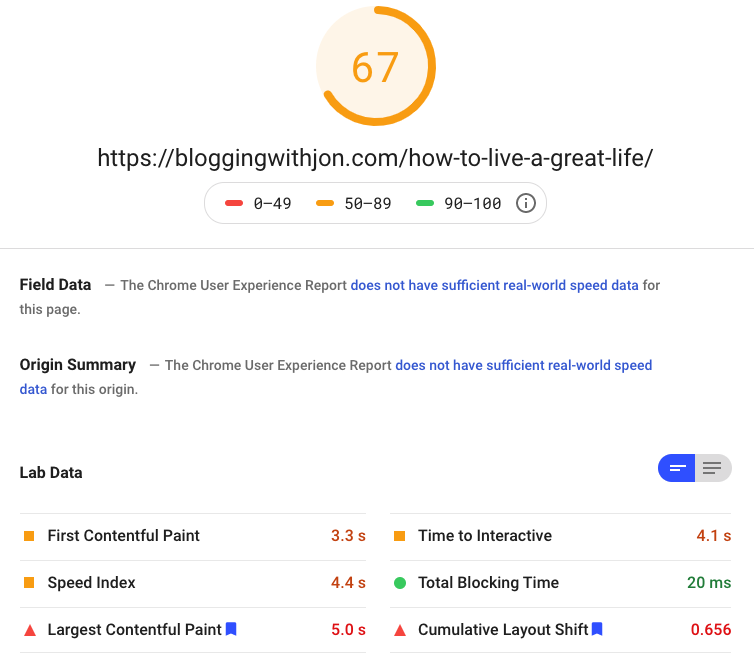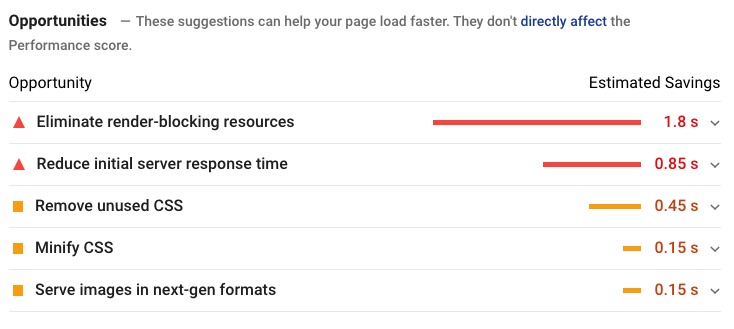 Bluehost Speed Test Results (Desktop):

Now that we've seen the results from Bluehost, let's move on to SiteGround…
SiteGround Speed Test Results (Mobile)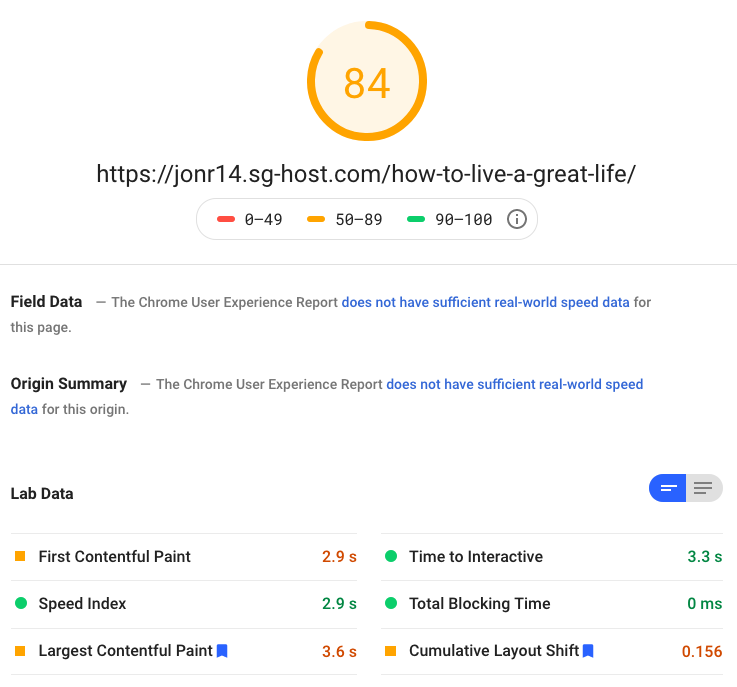 SiteGround Speed Test Results (Desktop)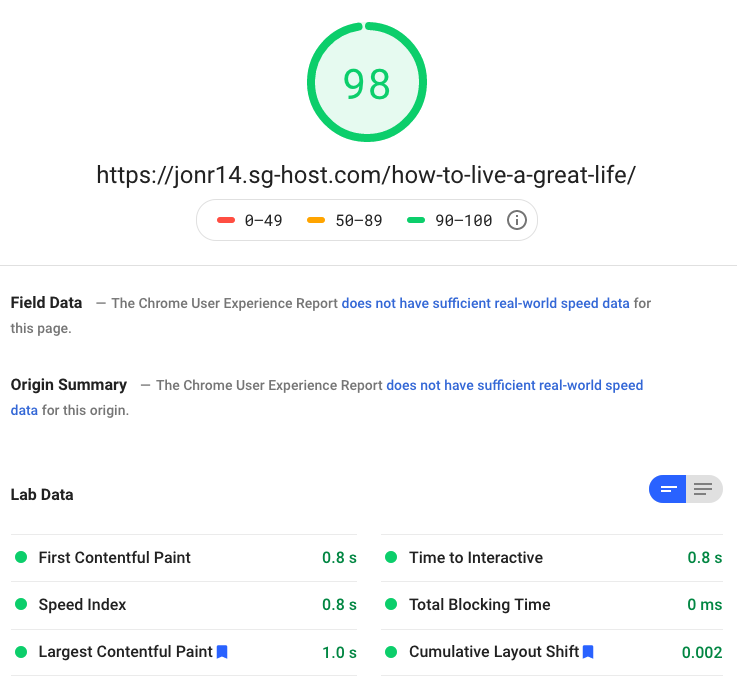 SiteGround Versus Bluehost – Speed Test Results
When you look at the results above, it's clear to see that SiteGround really shines over Bluehost when it comes to overall performance.
Aside from the Overall Grades, the #1 thing that catches my eye (and is probably the most important) is Server Response Time.
You'll notice both the mobile and desktop tests of Bluehost recommend reducing initial server response time.
However, that recommendation doesn't come up for either of the SiteGround tests.
This tells us that SiteGround's servers are faster than Bluehost's in this test.
You'll also notice that the First Contentful Paint and Speed Index numbers (among several others) are better with SiteGround.
So, if you want to give your users the best experience with your blog, SiteGround is the clear winner when it comes to performance.
SiteGround Frequently Asked Questions (FAQ's)
Which SiteGround plan is the best?
If you're trying to spend as little money as possible, then go with the Startup Plan. However, if you want faster speed for your blog or website, step up to the GrowBig or GoGeek Plan. Those plans get you SiteGround's custom SG Optimizer plugin, which will dramatically increase your site speed. Also, if you need to have more than one website hosted, you have to go with either the GrowBig or GoGeek Plan.
What CDN does SiteGround use?
SiteGround uses the CloudFlare CDN and it's free with all three plans.
What is a CDN?
CDN stands for Content Delivery Network. A CDN is a network of servers that are distributed all over the world. Your website assets (content, images, etc.) get replicated on each server so that they can be served up on the closest server to the person looking at your website. By using a CDN, your site will load faster for the person using it. A good CDN like Cloudflare is also optimized for security, making your site less susceptible to denial of service attacks and other problems.
Can I pay for SiteGround hosting monthly instead of yearly?
Yes you can. However, to get the lowest price you need to pay for at least a year in advance.
Who owns SiteGround?
SiteGround is a privately owned company with offices in the US, UK, Bulgaria, and Spain. They manage six datacenters around the world. The founder is Ivo Tzenov and the CEO is Tenko Nikolov. They employ about 650 people.
Where are SiteGround's servers located?
The SiteGround servers are located in Iowa (USA), London (UK), Eemshaven (NL), Franfurt (DE), Singapore (SG) and Sydney (AU). When you signup with SiteGround, they give you the option to choose from the datacenter locations above. You'll want to choose the datacenter that's closest to where the majority of your users will be coming from.
Is SiteGround a good choice for hosting a WordPress site?
Yes. They've been recommended by WordPress for several years now.
Is SiteGround a good fit with WooCommerce?
Yes, SiteGround is a recommended WooCommerce hosting partner.
Is SiteGround good for SEO?
Since site speed is a Google ranking factor and SiteGround is engineered for speed, SiteGround hosting is a good choice for SEO purposes. Also, SiteGround is recommended by Yoast SEO, a leading voice in WordPress SEO.
SiteGround Features and Ratings
When evaluating a web hosting provider, it comes down to getting the best performance, security, helpfulness and ease of use for your money. The cheapest providers won't give you the best of everything at the lowest price.
Summary
SiteGround does an excellent job of balancing price versus features and is a great choice for those who are willing to spend a little bit more to get better hosting.
SiteGround Cloud Hosting
While most of this SiteGround review has been dedicated to covering their WordPress hosting services, SiteGround also offers Cloud Hosting Plans.
What is Cloud Hosting?
Cloud hosting is an increased level of service that is fully managed and gives you dedicated server resources that are optimized for speed and efficiency.
SiteGround's Cloud Hosting Features
SiteGround's cloud hosting allows you to scale your services to higher levels as you need them.
For example, you can add more RAM memory or CPU processing power any time you want, just by clicking a button.
Additionally, you can set your account to auto-scale, which means SiteGround will automatically add more resources when you get traffic spikes you weren't expecting.
And lastly, SiteGround cloud hosting makes use of the Google Cloud Infrastructure, similar to their WordPress hosting services. That's one of the biggest reasons I choose SiteGround for WordPress hosting.
Included Cloud Hosting Options
When you go with cloud hosting on SiteGround, you get a couple additional options included beyond the standard WordPress hosting plans:
Dedicated IP address.
White-label reseller hosting.
These two cloud hosting options allow you to have your own IP address and to give clients access to their sites without the SiteGround labeling.
SiteGround's Cloud Hosting and WordPress
Something to be clear on is that you can have your WordPress sites on your cloud hosting plan. As a matter of fact, on cloud hosting, you'll get managed WordPress updates in this case.
Which means SiteGround will ensure your WordPress version and your plugins will all be kept up to date automatically.
SiteGround Review – Final Thoughts
After going through this thorough review and speed test, I'm confident in recommending SiteGround as a hosting provider.
Especially if great performance for your visitors is important to you.
Plus, their risk free 30-day trial makes it a no brainer!