Pinterest for Business is a type of account you can have on Pinterest.
There are two types of accounts that Pinterest offers:
Pinterest for Business.
Pinterest for personal use.
If you're like most bloggers and online business owners, you're always on the lookout for ways to get the word out about your website.
Pinterest is great for this because it allows you to post Pinterest Pins that link back to your website.  Your pins increase your brand awareness and drive traffic back to your site when people click on your pins.
But here's where some new bloggers go wrong:
They create (or already have) a personal Pinterest account and try to use it to promote their website.
The better choice:
The better choice is to use a Pinterest for Business account and in this blog post you're going to learn seven different reasons why this is important.
Why Use Pinterest for Business
When you use a Pinterest for Business account, you'll get several features that you won't get using a personal account.
And, you can use these features to your advantage for your blog!
With that said, let's cover the seven reasons (features included) you should be using Pinterest for Business.
1. It's Required By Pinterest (if using Pinterest for business purposes).
In the Pinterest Terms of Service, they clearly state that if you are going to be using Pinterest for commercial purposes, you must use a Pinterest Business account.
Since your blog is also an online business, that means your goal is to make an income (no matter how big or small) with your blog.
That's what "commercial purposes" means and why you need to have a business account if you use Pinterest to promote your blog.
2.  It's Free!
Sometimes when you use a service or software product, the only way to get the better features is to pay a charge or fee.
Not with Pinterest!  🙂
Business accounts are free with Pinterest.
You don't have to pay anything to start a business account or convert to a business account if you only have a personal account.
Which leads us to the next reason…
3.  It's easy to convert to a business account if you already have a personal account.
If you've been pinning with your personal account and are ready to make the switch to a business account, Pinterest makes it easy to do so.
They call it "Convert a Personal Profile to Business" and it only takes a few steps.
You start by logging in to your personal account and then going to pinterest.com/business/convert to make the switch.
From there, you'll provide your business name, your website and a business type that best describes your business.
Following that, you can then create your account.
Once your account is created you'll want to be sure to claim your website.  This is what links your site to Pinterest and allows you to start collecting analytics.  More on that in #4 below.
If you've ever installed Google Analytics on your site (and you definitely should!) then you'll be familiar with the process for claiming your website with Pinterest.
You can either add a meta-tag to the <head> section of your site or upload an HTML file.  Pinterest explains how to do this clearly in their help, right after you convert your business account.
They even give you directions based on the hosting provider you're using.
Another benefit to claiming your site is that, once you do, all the pins from your site will have your profile picture show up when people click on them.  And, a globe icon will show up next to your website's URL.
These two things are great for enticing people to visit your profile on Pinterest and click through to your website.
4.  Analytics.
Pinterest for business gives you great analytics about your pins and your website.
Here's a quick overview snapshot of this (still relatively new) site at the time of writing this post.  Pinterest shows you this when you click on Analytics on your profile.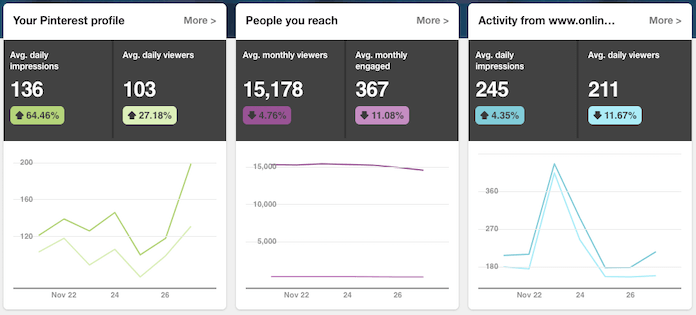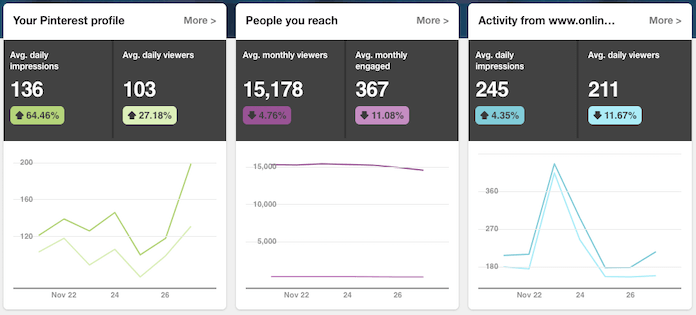 While this gives you a nice overview, you can also go much deeper into your analytics then what I'm showing you above.
For example, you can see which pins have the most impressions, clicks and saves.  Same thing with your boards.  And more…
All in all, having all this information at your finger tips really helps you to learn how to create pins that perform the best.
And that, in turn, leads to more traffic and engagement with your site.
Related:  15 Tips to Increase Pinterest Traffic to Your Blog
And that's what we're really looking for, right?!
5.  Rich Pins.
Rich Pins are pins that show additional information about your pin, pulled directly from the meta-data of the post your pin links to.
This is powerful because it gives more context to your pin.
You may already be set up for this:
In my list of seven must-have WordPress plugins, I mention Yoast SEO.
Well, if you use the Yoast SEO plugin on your website, you should already be filling in the meta-description for each of your blog posts before you publish them.
When you fill in that meta-description, hopefully you're providing some good "call to action" text in there to entice your reader to click on your post when it appears in search.
With Pinterest it's the same thing.  The meta-description (again, also shown on your pin as a result of using Rich Pins) gives your Pinterest users a good call to action to click on your pin and click through to your website.
You have to apply for Rich Pins, though:
In order to add Rich Pins to your account, you have to apply for them.
To do this, you'll need to use Pinterest's validator and provide one page or post from your site that has the meta-data filled in.
Remember, you filled that in through Yoast.  Also, Yoast uses a feature called Open Graph to pass on the meta-description data to Pinterest.
That's important because you'll need to let Pinterest know that, when you apply.  Specifically, it's considered markup through HTML tags, and that's the option you tell Pinterest when you apply.
If all this sounds confusing, just check out Pinterest's Rich Pins Getting Started guide.  It will guide you along.
After you apply and are approved, Pinterest will send you an email letting you know you're good to go!
6.  Promoted Pins.
Interested in ensuring your pins show up high in people's Pinterest feeds?
Then Pinterest promoted pins may be right for you.
The way it works is you select (or create) a pin of your own and put some dollars behind it to promote it, causing it to show in people's feeds.
Your promoted pin will show up based on what someone is searching for, or if Pinterest thinks the pin is relevant to them.
You can also get more advanced with this and setup pixel tracking on your website.  This helps to let Pinterest know who they should show your pins to.
What Would a Blogger Use This For?
A common case I've seen is to direct someone to a blog post they've written.  Inside that post, the blogger might try to monetize it with affiliate links.
Assuming the blogger can get a good ROI from the cost of the promoted pin vs. the affiliate income, promoting a pin can make good business sense.
Another case is to direct traffic to a landing page or post with a lead magnet in it.  You could do this with a content upgrade as well.
The goal in this case would be for list building.
I tried that one myself with some success and will likely do that again in the future.
The real power to this is that even after you end your campaign, your pins live on to continue to be shared and clicked on.
They'll just go back to a normal placement in people's feeds after the campaign has been concluded.
7.  Pinterest Pincodes.
Pincodes are round codes you can create so that you can share your Pinterest profile or board out in the world.
The way it works is you go to your Pinterest for Business account and create a pincode for either your profile or one of your boards.
You then put that pincode somewhere to be read.  For example, you could put it in your website's sidebar or even on a business card.
You could even put it in a blog post like the one you're reading right now (it's just a PNG image).
My Pincode: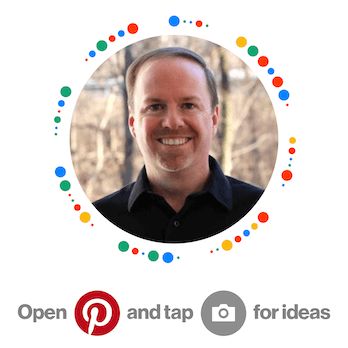 Then, someone can scan it from the Pinterest app on their phone.  They tap on the camera icon in the app and that brings up the code reader which reads the pincode when you point your camera at it.
Do you have Pinterest on your phone?  If so, give it a try on the pincode above!
I created the pincode above for my Pinterest profile and that's where you'll be directed by the app.
Oh, and I hope you'll follow me on Pinterest.  😉
As a Pinterest for Business user you can also create pincodes for specific boards.  Pretty cool, huh?!
Another place I could see bloggers using pincodes is on their Social Media profiles.  Instagram comes to mind since the PNG image for the pincode is a square image that you could post on Instagram.
Let me know if you try that…  I'd love to hear what you thought.
Conclusion
There you have it!  My 7 reasons bloggers should use Pinterest for Business.
I hope you found this post useful and are inspired to start using Pinterest for Business to promote your blog.
I think you'll see a nice boost in traffic to your blog if you do.